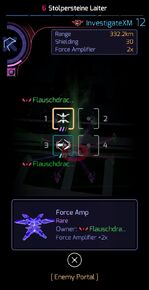 A Portal Mod (short for Portal Modifier, also simply known as Mod) is a type of item that modifies a Portal. Seven kinds of Mods exist, including three sponsored Mods. Most Portal Mods come in Common, Rare, and Very Rare rarities.
Four Portal Mods can be deployed per Portal, however, only two can be deployed per Agent per Portal. Once deployed, a Mod cannot be removed or upgraded, except when attacked by the enemy faction.
Portal Mods are independent of Resonator

deployment and Portal level.
Portal Mod Types
[
]