Telegram (frequently TG) is an online messaging system. In many countries (in Europe and Asia), Telegram is the most popular means of communication within Ingress communities.
Telegram is notable for its vibrant bot platform; there are many bots created for Ingress players.
Download Telegram

Searching & Sharing Portals
Edit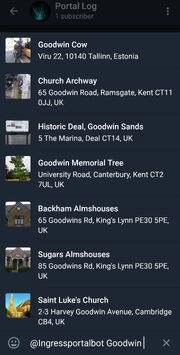 There are two public Portal search bots: @IngressPortalBot and @PortalMapBot. To use them, start a conversation with the bot, and then you can send portal references to any chat by typing @IngressPortalBot search keywords... into that chat. When you use this feature in the mobile Telegram app, they list closest portals first, according to your current location.
Passcodes
Edit
There's the @PassscodeBot (notice 3 × 's'), where you can subscribe to be notified when new public Passcodes are available. Unfortunately it's slower than many private chats.
The bot is in Russian, but don't worry, you simply have to press the "START" button and it will send passcodes when they are available.
Stickers
Edit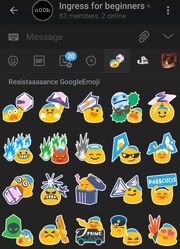 There are many stickers pack created by an unknown users for Ingress Players. We have a Resistance-themed sticker pack created by an unknown person. Click here to add to your Telegram app.
External Links
Edit